Stephanie is currently pursuing her Master's degree in Mechanical Engineering at Eindhoven University of Technology. We asked Stephanie about her experience of searching and applying to a university abroad.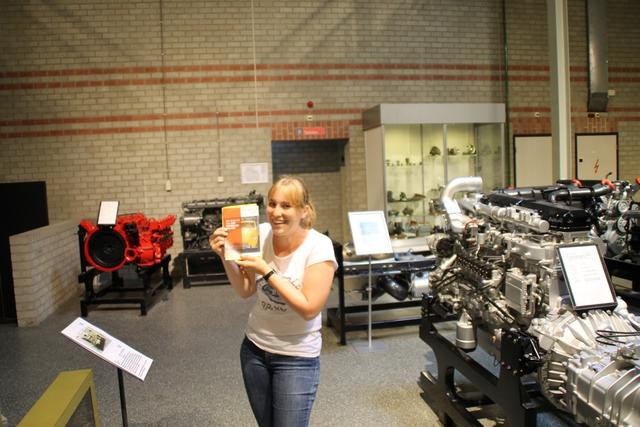 About you
Tell us a bit about yourself. What is your name? How old are you? Where are you from?
I am Stephanie Shamiyeh from Austria and I'm 25 years old.
Where are/were you studying and what programme? What degree and how long is your programme?
I started my studies in mechatronics with specialisation in systems and control at JKU Linz and finished my Bachelor's and all Master's lectures there. Now I am completing my studies with my Master's thesis at TU Eindhoven, in the Mechanical Engineering Department. The minimum time for B.Sc. Mechatronics is 6 semesters (3 years) and the Master's takes minimum 4 semesters (2 years).
Why did you want to study abroad?
I see it as an enrichment of personal and technical abilities. You have to get used to a new working environment or even a complete different way of working, get to know a lot of different people and learn how to organise everything on your own. Your language skills improve and all of this is a challenge that widens your horizon and allows you to know yourself, your strengths and weaknesses better.
Deciding for a university
What were your main priorities when choosing your university and your programme (e.g. academics, accommodation, university services & facilities, personal & professional development, city & culture, cost & funding, practicalities, social life)?
For me, the offered topic for my thesis was the most important reason. To be honest, the Netherlands has not even been on my wish list (which was rather vague, I have to admit) but when I got the offer for my topic (a control task on a robot for assistance on eye surgery) I almost immediately knew this was going to be my spot.
Was this your first study choice? What other universities did you consider? What was the main reason of your final choice?
I was considering many choices depending on the topic; when I first talked to my professor about this I told him I am interested in Northern Europe, Australia, Canada, South America or whatever turns up, just not Asia or Russia (I do not speak the languages from these countries at all). As I needed a university that offers my specialisation, my professor recommended Northern Europe and I got offers from Denmark, Sweden, Norway, Great Britain and the Netherlands. Financially I relied on the recommendations from the international office at JKU and I got an Erasmus grant and a locally funded grant from Upper Austria.
Did you know from the start that you wanted to study in that particular country and city? Why did you choose for this particular location?
No, as mentioned, the Netherlands hasn't even been on my wish list, but my professor told me that the group in systems and control there are on a very high level and I got the most interesting topic offered from the Eindhoven group. Despite my surprising choice, I never regretted it and I had a great experience!
How did StudyPortals help you in your decision process?
To be honest, I only registered at StudyPortals after the decision process, simply so I can search for additional financial support.
Did you take a language test (e.g. TOEFL, IELTS) when applying for the programme? If yes, which one did you choose, why and how was your experience with it?
No, I did not have to. I only did the Erasmus language assessment, but I have had several English lectures the semesters before I left.
Recommendations
What would be your advice for students from your country that consider to study abroad?
It is a good chance to improve your English language skills and it is amazing to see how other universities work and what their habits are. In my case I really saw a very, very different approach in communication and support between professors and students. So I would recommend getting information and contacts from people who have been at that specific university beforehand just to be prepared for the challenge.
I would advise students to always keep an open mind and not to hesitate to ask your way through or simply admit that you feel lost or whatever your problem is. Having the courage to ask or admit something impresses more than not knowing and not asking. :)
How did you finance your stay abroad and what financial advice would you give to future students?
I am in the lucky situation that I got financial help from my parents. The Erasmus grant, together with the grant from my local government (Upper Austria) do not cover the minimum expenses and it is a relief not having to worry about the financial things knowing my parents are behind me.
Searching for other grants depends on the profession - for technological studies there are not many out there, for business students the possibilities are nearly endless.
My advice for students would be: do not take a job on your exchange, it is not worth it. Try to get the money together before leaving and make a detailed financial plan with experiences from students who have been there before.
Why would you (not) recommend this particular city / university? How would you rate your experience on a scale from zero to ten (0 – It was a total disaster, 10 – I had the time of my life)?
TU Eindhoven has a completely different way of working compared to what I know from home and many of the exchange students from all over the world experienced the same. There are many projects without much guidance to complete, so you have to find your own way and you get nearly no information or guidelines to follow. They teach you to set your own goals, find out what information you need for reaching the goal and let you as loose as possible. For me, especially with my thesis work, this was completely new and I felt pretty lost for the first few weeks of working, but you just have to adapt and get used to the new way and then you learn a lot from it and benefit from this in every way.
If I had to rate my experience, I guess it would be 8-9. It was in most points the time of my life but there were of course things I never got used to. Especially the information beforehand about housing and bureaucratic things was very poor and I had no students with experiences as no one from my university had done an exchange to TU/e in the last couple of years.
Is there anything that you would do differently if you could do it over again?
I would not have done my thesis abroad, but only attended lectures. It is the "standard" way for exchange students and you miss the group fun if you have normal working hours at the university instead of just a few lectures.
What was the biggest surprise in your study abroad adventure?
Mostly the missing information I needed to set goals for my thesis. The underlying message was: do whatever suits your interests as long as it goes in any way in the direction we mentioned. That was the case four weeks after I started work – and it felt like a total setback, because I thought I had a clear goal and worked for that. Nevertheless, everything turned out well and, of course, I found the most interesting goals for me.
Were you inspired by Stephanie's story?